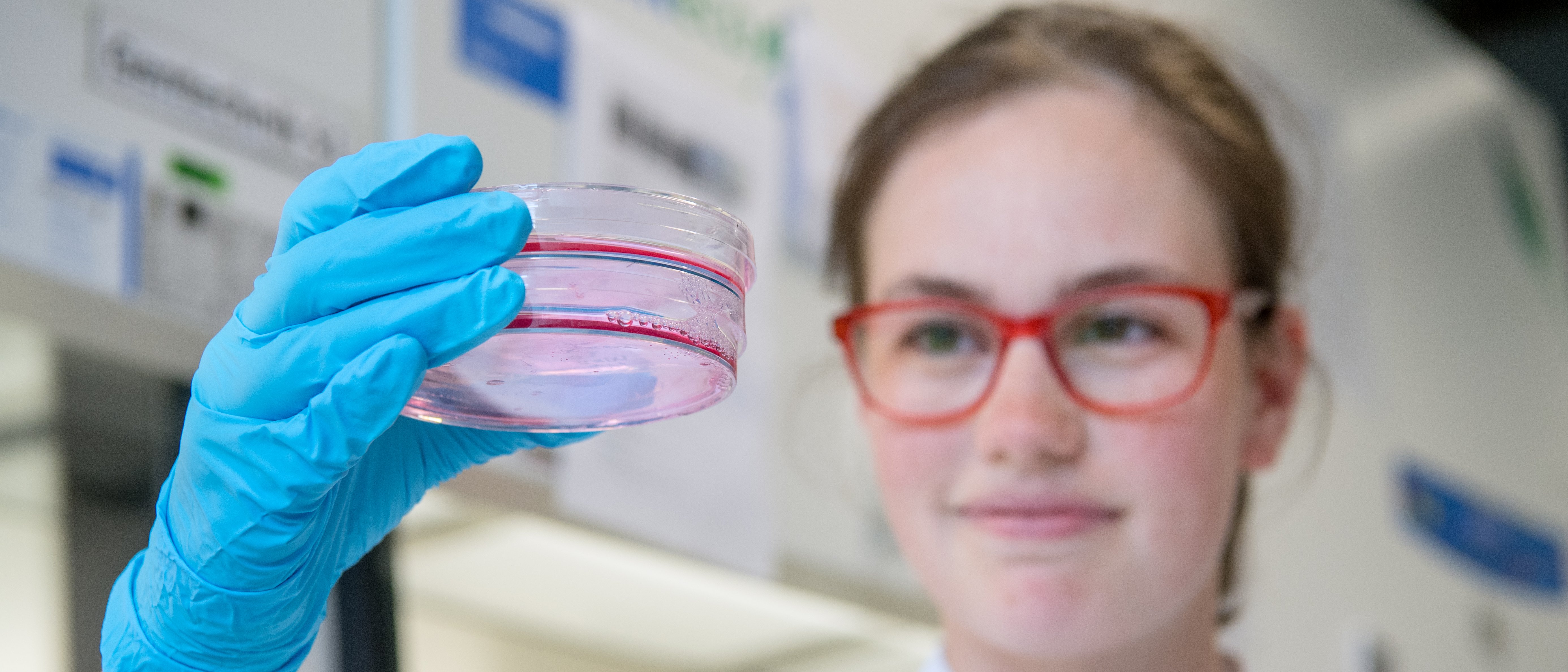 Information for PhD students
All participating institutions have developed various programs to train and support young scientists at different career stages in order to foster their development towards independent positions in academia or careers in industry. Below, we introduce the institutional measures of the different institutions for PhD students.
The TUM Graduate School (TUM-GS) is the comprehensive organizational format for each doctorate at TUM. With its discipline-specific Faculty Graduate Centers and transdisciplinary Thematic Graduate Centers, the TUM-GS supplements individual doctoral research with additional elements which support doctoral candidates and supervisors alike – independently of the context and funding of each individual doctoral project.
Since 2014, all doctoral candidates at TUM are part of the TUM-GS and therefore benefit from the structuring elements, supervision agreement, regular feedback sessions, individual coaching and mentoring, advisory services, as well as gender and diversity-oriented measures. The TUM-GS promotes the development of young scientists at TUM with regard to both scientific and personal development by offering a vast range of courses on scientific and entrepreneurial expertise, good scientific practice, international and interdisciplinary research skills, career talks and tailor-made transferable skills training.
To prepare TUM graduates for leadership positions and global careers inside and outside of academia, the TUM-GS not only organizes different joint interdisciplinary workshops and summer schools with key international partner universities, but also offers different mobility programs and funding opportunities for all doctoral candidates to allow for international research stays, conference visits and the development of international networks.
Integrated into the structure of the TUM Graduate School, the Faculty of Medicine runs four doctorate programs to address the needs of its doctoral candidates. The programs range from a highly competitive international and interdisciplinary PhD program via a structured program for natural scientists and an in-depth program for interested medical students to the classical medical doctorate thesis that is conducted in the structured context of the TUM Graduate School. All programs meet or exceed the TUM-Graduate School standards and include a supervision agreement, regular thesis committee meetings, relevant training courses and additional services offered by the TUM Graduate School, such as career coaching, welcome services and networking opportunities.
GraduateCenterLMU(link is external)
Doctoral candidates can profit from a layered support infrastructure where central and overarching offers across all disciplines interlock with subject-specific programs and structures. The GraduateCenterLMU, as the central service unit for all matters related to doctoral studies, offers a wide range of qualification services for doctoral candidates from all disciplines. The GraduateCenterLMU team also provides comprehensive advice and support in form of individual consultation and coaching. Additionally, the GraduateCenterLMU has developed general recommendations for the organisation of doctoral studies at LMU Munich (Code of Practice) including a template for supervision agreements. It supports the design and implementation of structured doctoral programs. LMU Munich currently offers more than 40 doctoral programs in a broad range of disciplines.
Munich Medical Research School(link is external)
The Munich Medical Research School (MMRS) is a central institution of the LMU's Medical Faculty. It is designed as an umbrella structure spanning all doctoral studies (regular doctoral theses and structured Ph.D. programs) in the areas of human medicine, dental medicine, human biology and the life sciences. Research training groups and collaborative research centers are given the possibility of awarding their students a Ph.D. in the framework of the "Ph.D. Medical Research" examination regulations.
Helmholtz Graduate School in Environmental Health (HELENA)(link is external)
The Helmholtz Graduate School in Environmental Health (HELENA), established in 2010, addresses the interaction between environmental and lifestyle factors and individual genetic makeup during disease development. It builds on the strong expertise of HMGU and its university partners, Ludwig-Maximilians-Universität München (LMU) and Technical University of Munich (TUM) with the goal to educate a new generation of leading scientists in metabolic and environmental health research. HELENA has proven to be a highly successful educational platform to launch successful careers for its doctoral students who are pursuing their paths in research, clinical practice, industry and management. In addition to cutting-edge scientific projects and training within a multidisciplinary and international faculty, HELENA provides mentoring and support from a personal thesis committee, financial support for active conference participation and research stays to build international networks, and professional skills courses to develop competencies in leadership, management and communication. Under the umbrella of HELENA, additional topic-specific research schools have been established.
Career Center(link is external)
The Career Center for doctoral students and postdocs was launched in December 2018 as the central contact point for career guidance and counseling for doctoral students and postdocs. With agile and transformative counseling formats like "walk-ins", brown bag seminars and online formats, the Career Center perfectly adapts to the needs of the target groups. Individual Career Development Plans (IDP) support young scientists to gain a clear picture of personal strengths, values and interests and to research requirements for various career paths. The IDP will be used to create a roadmap to enhance the knowledge, skills and abilities of the student, to make realistic career decisions and to develop strategies to follow personal career goals. Furthermore, the IDP will serve as a central tool to bring together the different options within the Career Center portfolio, such as career orientation and information, coaching and consulting, networking, role models and company visits. Annual career days will complement the program.
International Max Planck Research School for Molecular and Cellular Life Sciences (IMPRS-LS)(link is external)
Students at the MPIB participate in the International Max Planck Research School for Molecular and Cellular Life Sciences (IMPRS-LS), which is dedicated to intensive mentoring and early independence in research. Substantial international student participation is an essential conceptual element and the research schools typically aim to involve about 50% non-German nationals as fellows. The main goal of the research school is to provide interdisciplinary training in molecular and cellular life sciences to doctoral students in an environment of scientific excellence. During the course of their studies, students are exposed to a broad range of scientific disciplines and methodologies, covering the areas of biochemistry, cell biology, molecular medicine, neurobiology and structural biology. The IMPRS cooperates with the graduate schools of the TUM and the LMU.
DKFZ International PhD Program(link is external)
The DKFZ International PhD Program in Heidelberg (also known as the Helmholtz International Graduate School for Cancer Research) is the interdisciplinary structured graduate school for all PhD students working at the German Cancer Research Center (DKFZ). Our PhD students conduct research at the forefront of basic, computational, epidemiological and translational cancer research. PhD students are supervised by group leaders and department heads of the DKFZ. A Thesis Advisory Committee (TAC) – personal to each student – provides further support during the whole duration of the PhD. The DKFZ offers a number of lectures, seminars, and events to allow PhD students to tailor their education to meet their own needs and interests. Besides, PhD students get the chance to train their scientific networking skills.
Funding Opportunities for Students and Young Researchers (link is external)
As one of the largest university hospitals in Europe, the Charité is committed to excellence in clinical care, research and teaching. Charité provides talented undergraduate or doctoral student or postdocs with structured career development and funding programs. The academic grants committee selects the most promising talents and projects for funding.
Graduate Training(link is external)
At the HKI, natural science graduates can seize the opportunity of comprehending their doctoral qualifying exam on challenging research topics. A graduate school will enable the doctoral candidates to obtain substantial mentoring support from experienced scientists. At our established graduate schools ILRS(link is external) and JSMC(link is external), doctoral candidates from all over the world get together and carry out joint research within a closely linked network of different institutes in Jena. This will allow them further to be part of an extensive social and cultural life.
Center for Graduate & Postgraduate Researchers (WIN)(link is external)
The Center for Graduate & Postgraduate Researchers (WIN) is a cross-faculty facility for supporting and advancing early career scientists and scholars at Universität Regensburg. It aims to advise university leadership on the strategic development of prospects for early career scientists and scholars. In addition, the WIN supports academic departments, graduate schools, research training groups and other units of academic career development in creating optimal conditions for early career scientists and scholars. The career prospects, networking and international visibility of early career scientists and scholars at UR are promoted as well.